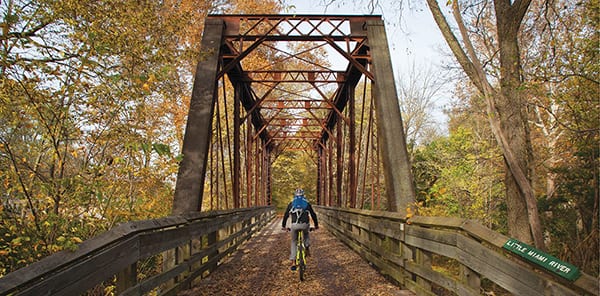 We're Proud to Service Yellow Springs, OH
Our team at Greater Dayton Furnace & Air Conditioning is proud to serve the homeowners of Yellow Springs, among neighboring Dayton communities, with the absolute highest level of customer service possible at the most competitive and affordable prices in the market.
Yet it doesn't end there! We offer every kind of HVAC service imaginable, from A to Z, all of which come at competitive, affordable, prices our competitors find hard to beat. And we are happy to extend these services to all the residents of Yellow Springs, OH. Check out our special online deals and financing options.
If you're looking for expert-level Heating, Cooling & Indoor Air Quality products, and services in Yellow Springs, OH from a trusted professional, look no further than your friends at Greater Dayton Furnace & Air Conditioning! From A/C repair to furnace maintenance to heating pump installation, humidifier installation, diagnostic service calls – we've got you covered. Give us a call or schedule online now to schedule HVAC services in Yellow Springs!
Above all else, your satisfaction is guaranteed!
Getting to Know Yellow Springs, OH
A rare, beautiful village nestled away in Greene County, Yellow Springs is rich with history, culture, art and attractions that truly make it one of a kind. In 1825, the Yellow Spring was founded by William Mills and 100 families who wanted to emulate a utopian community in New Harmony, Indiana. Because of internal conflicts, the communitarian efforts dissolved. The village, however, was named after several nearby natural springs in which waters were seen as rich in iron content. Yellow Springs had long been the home of Shawnee Native Americans, most of whom were forced out when European-American settlement arrived and pushed westward. In 1846, the completion of the Little Miami Railroad resulted in much more commerce here as well as more inhabitants to this area of Greene County.
A great deal of visitors during the nineteenth century came for the springs, as they were believed to have health benefits. Yellow Springs was incorporated as a village in 1856. Founded by the Christian Connection in 1850, Antioch College started offering classes in 1853 with the distinguished scholar Horace Mann serving as its first president.
Antioch College expanded beginning in 1964, to include 38 "centers" around the country by the end of 1979. Its by-laws were changed to define Antioch as a "network", not a college, owned by Antioch University Corporation. In 1986, 32 of its units around the country were closed, leaving six campuses, which included both its original College campus in Yellow Springs and the college's School of Adult and Experiential Learning there. It operated separately as Antioch University McGregor. That adult and graduate education school was renamed as Antioch University Midwest in 1988.
Among the many attractions in Yellow Springs are Glen Helen Nature Preserve, Little Miami Scenic Trail, John Bryan State Park, Clifton Gorge State Nature Preserve, Young's Dairy and a slew of parks and other attractions.
Our team at Greater Dayton Furnace & Air Conditioning proudly serves the residents of Yellow Springs, Ohio, as well as neighboring communities, with the absolute highest level of customer service possible at the most competitive and affordable prices in the market. For each and every customer we serve, day in and day out, we strive to provide our Five Star Experience each and every time.
Choose Us for HVAC Services in Yellow Springs, OH!
Our trucks stay fully stocked, outfitted with all sorts of cutting-edge, high quality, HVAC equipment, parts, and tools. This includes a wide range of furnace filters, HEPA filters, A/C filters, and all sorts of other parts. We stay up-to-date with the latest technology in thermostats, including smart thermostats and programmable thermostats, which cost less than you'd think and yet pay for themselves quickly with the added convenience and energy savings. We also fix AC fans and AC compressors, in addition to recharging AC refrigerant levels when necessary. This, we should mention, should only be performed by a professional as air conditioning refrigerant is hazardous. We also service electric furnaces, gas furnaces, heat pumps, and every other type of heater.
Finally, if you're looking to improve your home's Indoor Air Quality, we also offer a whole line of products that include humidifiers, dehumidifiers, air purifiers, UV lights, and special air filters. This is in addition to the air duct cleaning service we provide, for those residents who suspect their ductwork might need a professional hand.
So if you're googling "Why is my furnace not working?" or "who's the best HVAC contractor in Dayton, OH" or any other question related to anything HVAC, we have the answers and we would be happy to send a friendly technician over to get your system back to its best.
Greater Dayton Furnace & Air Conditioning Reviews in Yellow Springs, OH