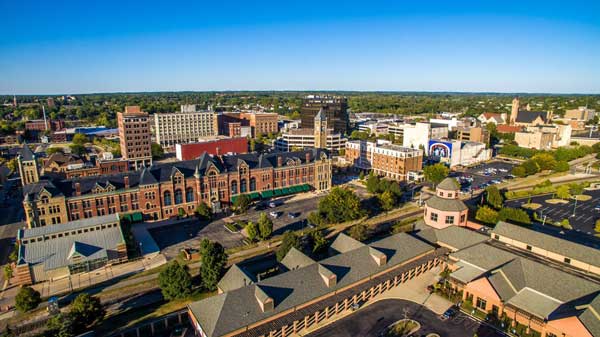 We're Proud to Service Springfield, OH
Our team at Greater Dayton Furnace & Air Conditioning is proud to serve the homeowners of Springfield, among neighboring Dayton communities, with the absolute highest level of customer service possible at the most competitive and affordable prices in the market.
Yet it doesn't end there! We offer every kind of HVAC service imaginable, from A to Z, all of which come at competitive, affordable, prices our competitors find hard to beat. And we are happy to extend these services to all the residents of Springfield, OH. Check out our special online deals and financing options.
If you're looking for expert-level Heating, Cooling & Indoor Air Quality products, and services in Springfield, OH from a trusted professional, look no further than your friends at Greater Dayton Furnace & Air Conditioning! From A/C repair to furnace maintenance to heating pump installation, humidifier installation, diagnostic service calls – we've got you covered. Give us a call or schedule online now to schedule HVAC services in Springfield!
Above all else, your satisfaction is guaranteed!
Getting to Know Springfield, OH
With a population of about 60,000 residents, Springfield is the county seat of Clark County, in southwest Ohio. This city is about 25 miles northeast of Dayton along the Mad River and the Beaver and Buck creeks. Today, Springfield is home to the well-known liberal arts college Wittenberg University.
Also a popular destination for hikers and cyclists, the Little Miami Scenic Trail runs from the Buck Creek Scenic Trail through Springfield. It goes south to Newtown, Ohio, which is near Cincinnati, as it's a paved rail-trail that's roughly 80 miles long.
In its 50th-anniversary magazine edition, Newsweek featured Springfield in 1983 in a story called, "The American Dream," which highlighted the effects of the past 50 years of change on five families from Springfield. Then, in 2004, Springfield was selected as an "All-America City."
We at Greater Dayton Furnace & Air Conditioning are proud to serve the people of Springfield, Ohio, striving to provide them the absolute highest level of customer service possible at the most affordable prices in the market. For each and every homeowner we serve, day in and day out, we aspire to provide our Five Star Experience each and every time.
Choose Us for HVAC Services in Springfield, OH!
Our trucks stay fully stocked, outfitted with all sorts of cutting-edge, high quality, HVAC equipment, parts, and tools. This includes a wide range of furnace filters, HEPA filters, A/C filters, and all sorts of other parts. We stay up-to-date with the latest technology in thermostats, including smart thermostats and programmable thermostats, which cost less than you'd think and yet pay for themselves quickly with the added convenience and energy savings. We also fix AC fans and AC compressors, in addition to recharging AC refrigerant levels when necessary. This, we should mention, should only be performed by a professional as air conditioning refrigerant is hazardous. We also service electric furnaces, gas furnaces, heat pumps, and every other type of heater.
Finally, if you're looking to improve your home's Indoor Air Quality, we also offer a whole line of products that include humidifiers, dehumidifiers, air purifiers, UV lights, and special air filters. This is in addition to the air duct cleaning service we provide, for those residents who suspect their ductwork might need a professional hand.
So if you're googling "Why is my furnace not working?" or "who's the best HVAC contractor in Dayton, OH" or any other question related to anything HVAC, we have the answers and we would be happy to send a friendly technician over to get your system back to its best.
Greater Dayton Furnace & Air Conditioning Reviews in Springfield, OH