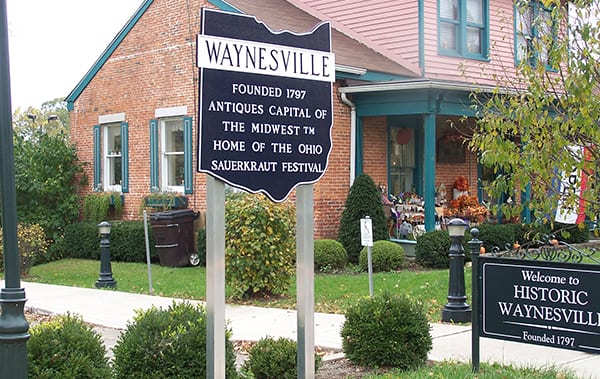 We're Proud to Service Waynesville, OH
Our team at Greater Dayton Furnace & Air Conditioning is proud to serve the homeowners of Waynesville, among neighboring Dayton communities, with the absolute highest level of customer service possible at the most competitive and affordable prices in the market.
Yet it doesn't end there! We offer every kind of HVAC service imaginable, from A to Z, all of which come at competitive, affordable, prices our competitors find hard to beat. And we are happy to extend these services to all the residents of Waynesville, OH. Check out our special online deals and financing options.
If you're looking for expert-level Heating, Cooling & Indoor Air Quality products, and services in Waynesville, OH from a trusted professional, look no further than your friends at Greater Dayton Furnace & Air Conditioning! From A/C repair to furnace maintenance to heating pump installation, humidifier installation, diagnostic service calls – we've got you covered. Give us a call or schedule online now to schedule HVAC services in Waynesville!
Above all else, your satisfaction is guaranteed!
Getting to Know Waynesville, OH
The village of Waynesville in Warren County has a rich history dating back to before Ohio became a state. Named after General "Mad" Anthony Wayne, the village is located at the crossroads of U.S. Route 42 and State Route 73. Among many things, it is known for its antique stores and its annual sauerkraut festival. The famous Caesar Creek State Park is located five miles east of Waynesville. Waynesville offers an interesting combination of history and culture as it developed in southwestern Ohio, according to the village's Chamber of Commerce. Many consider it the "Antiques Capital of the Midwest" and also consider it a microcosm of American heritage with its accomplishments and dreams.
Founded in 1797 by Samuel Heighway, Waynesville was intended to become the capital of the Northwest Territory. Although that dream that never came to fruition, Waynesville did eventually become one of the most historically unique tourist spots in all Southern Ohio. Heighway, an engineer from England, along with other English frontiersmen settled Waynesville on March 8, 1797. He and his partners, Rev. John Smith, a Methodist minister, Dr. Evan Beans, a physician, and Sir Francis Baily, a young scientist, invested in 30,000 acres in the Symmes Purchase between the Little and Great Miami Rivers. Their plan was to start a plantation. In 1796, a settlement party cleared out land previously surveyed by Heighway as early as 1792. More than 10 tons of implements and supplies were bought at Baltimore and brought to Philadelphia were the party gathered. From there, these were stowed aboard a 12 by 36 foot flatboat they called the "Kentucky Ark." It was moved on the Allegheny and Monongahela Rivers to the Ohio River.
When they arrived at what is now the location of Waynesville, the settlers set up primitive log shelters before log cabins were built facing the river. Heighway's initial layout was that of an English village. Parks and squares were arranged around a central public square. These were accented with plans for a serpentine walk, groves of ornamental trees and fishponds. Heighway's original map of the village was dotted with fountains. A "Government House" was strategically situated on the public square and was accented by a tree shaded promenade.
Greater Dayton Furnace & Air Conditioning proudly serves the residents of Waynesville, Ohio, as well as neighboring communities, with the absolute highest level of customer service possible at the most competitive and affordable prices in the market. For each and every customer we serve, day in and day out, we strive to provide our Five Star Experience each and every time.
Choose Us for HVAC Services in Waynesville, OH!
Our trucks stay fully stocked, outfitted with all sorts of cutting-edge, high quality, HVAC equipment, parts, and tools. This includes a wide range of furnace filters, HEPA filters, A/C filters, and all sorts of other parts. We stay up-to-date with the latest technology in thermostats, including smart thermostats and programmable thermostats, which cost less than you'd think and yet pay for themselves quickly with the added convenience and energy savings. We also fix AC fans and AC compressors, in addition to recharging AC refrigerant levels when necessary. This, we should mention, should only be performed by a professional as air conditioning refrigerant is hazardous. We also service electric furnaces, gas furnaces, heat pumps, and every other type of heater.
Finally, if you're looking to improve your home's Indoor Air Quality, we also offer a whole line of products that include humidifiers, dehumidifiers, air purifiers, UV lights, and special air filters. This is in addition to the air duct cleaning service we provide, for those residents who suspect their ductwork might need a professional hand.
So if you're googling "Why is my furnace not working?" or "who's the best HVAC contractor in Dayton, OH" or any other question related to anything HVAC, we have the answers and we would be happy to send a friendly technician over to get your system back to its best.
Greater Dayton Furnace & Air Conditioning Reviews in Waynesville, OH